State-Of-The-Art Fabrication Shop
Baca Robo Saw Jet
Robo Saw Jet is a high-production dual table Saw Jet that integrates both a high-pressure abrasive waterjet and 20HP direct-drive saw. This allows for perfect cuts and clean finished products for the customers.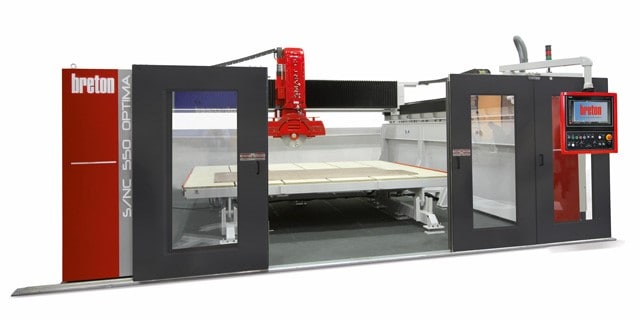 Breton Smartcut S/NC 550 Optima
The bridge saw SMART-CUT S/NC 550 OPTIMA is a NC cutting centre with interpolated axes, equipped with rotating head and fixed work bench, designed to perform multiple machining operations which would otherwise require several machines, such as: cutting of slabs, shaping and dishing out of small blocks, engraving of inscriptions, drilling, etc. using either the diamond disc or the drills. Equipped with a vacuum cup pick-and-place system, the machine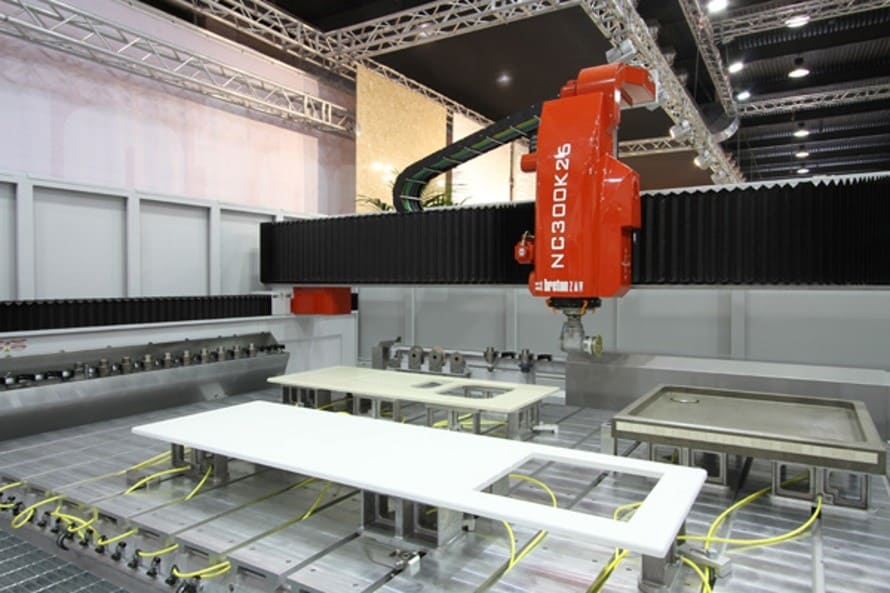 CNC Breton NC300k26
Numerical control machining center with 3 interpolated axes and large work bench, specially engineered to shape, contour, mill and drill items of granite, marble, engineered stone and similar materials.
Comandulli Omega Pencil
Designed and manufactured according to the up-to-date concepts and structural principles, the OMEGA series, automatic multispindle belt polishing machine, is remarkable for its performance and production on every kind of marble and granite.
Comandulli Penta
Designed to complete any size piece of countertop. This machine helps get complete the polishing for all products for countertops.